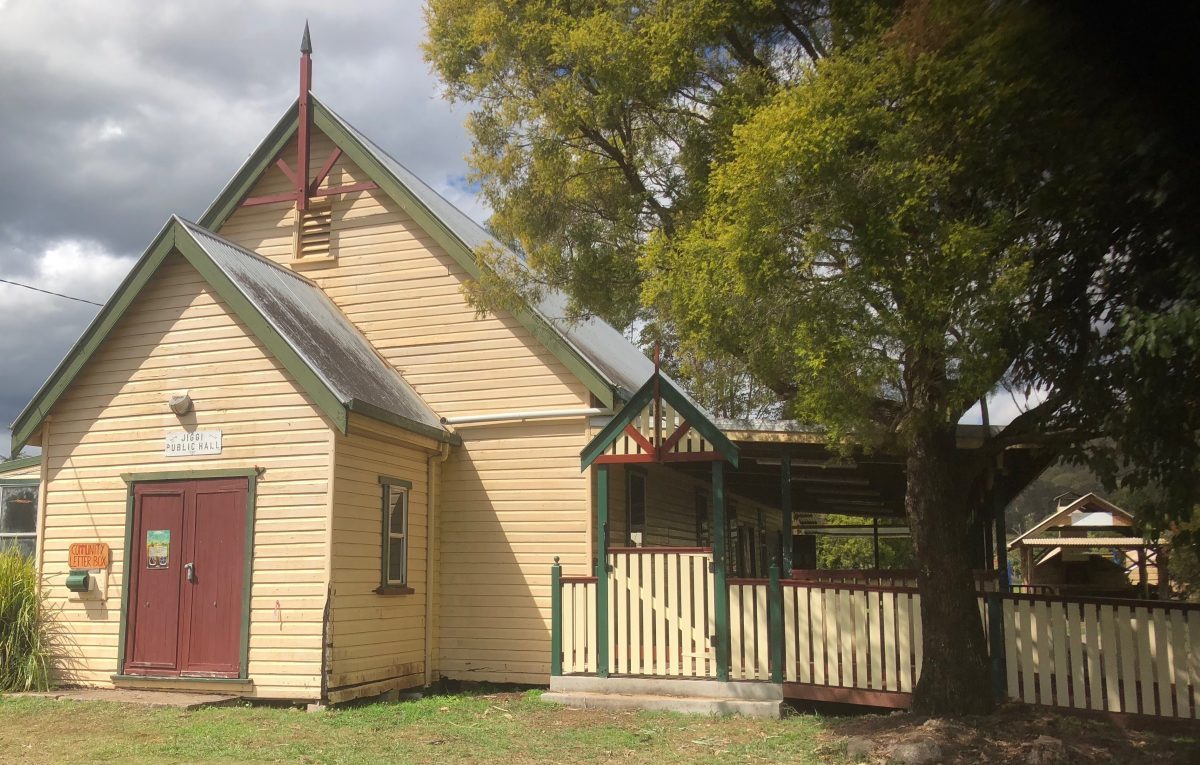 JIGGI SCHOOL OF ARTS : COMMUNITY HALL

Since 1907
From the Eucalypt forests of the mountain top to the plains of the Jiggi Creek once covered in a mosaic of monster eucalypts and Hoop Pine dominated rainforest, the Jiggi Community Hall nestles at the centre of the Jiggi, Georgica and Mountain Top communities.
The Jiggi Hall is a community asset where community members of Jiggi, Georgica and Mountain Top and friends can come together to socialise, share and learn.
The land and its buildings are the property of the Jiggi School of Arts, a community organisation whose members are the owners of the hall and all of its assets.  All Jiggi, Georgica, and Mountain Top residents and landowners can become members of the Jiggi School of Arts.
The history of the property dates back to the 1880s, when the post office was established. The old Post Office is now a rented cottage with the large Community Hall attached. The property also houses the Tower Preschool, originally established on Oakey Creek Road and finally built by the community in 2004 on JSOA grounds.
The Rules of Jiggi School of Arts Inc (Constitution) are available here.
Events, workshops and activities are held during the year and are advertised in our calendar. The Hall Committee (JSOA Inc Committee) facilitates sharing of local produce and plants, and maintains a book, DVD and children's library.
The Hall has a long history of providing the glue which welds the community as one: feasts, fairs, games, parties, classes and workshops. The Hall, kitchen, and pizza oven are available for hire on an hourly or daily basis.
Check out the Calendar on the BOOKINGS page for available dates for your special event.
You can contact us at:   Jiggihall@gmail.com
JIGGI SCHOOL OF ARTS MANAGEMENT COMMITTEE
The Jiggi Community Hall management is overseen by the JIGGI SCHOOL OF ARTS elected committee. The Committee is elected afresh every year at the Annual General Meeting (AGM).
The 2019/20 elected committee is:
PRESIDENT: Marina Fitzhenry, VICE PRESIDENT: Ina Boeger  SECRETARY: Cathie Dosba, TREASURER: Ellen White.
COMMITTEE MEMBERS: Phil Biggar, Ken Williams. Danielle Diedun, Michael Bowles.
JIGGI SCHOOL OF ARTS  COMMITTEE MEETINGS

The Hall Committee meets on the 3rd Wednesday of each month at 6pm at the JIGGI HALL. Any member wishing to attend is most welcome.
JIGGI SCHOOL OF ARTS ANNUAL GENERAL MEETING
The AGM is generally held on the 3rd Wednesday in November.
NEW MEMBERS VERY WELCOME
FOR DETAILS ON HOW TO BECOME A MEMBER VISIT Membership